WELCOME TO SINOBOOM
Founded on February 28th, 2008 and located in Changsha, China's capital for construction and heavy machinery, SINOBOOM specializes in the research, manufacture, sales and service of a wide range of access solutions. Since its entry into the market, SINOBOOM has achieved a number of awards and certifications in recognition of the brand's quality and achievements.

The brand boasts one of the industry's most complete product lines, with its own self-propelled telescopic boom, articulating boom, scissor, spider and truck-mounted boom lifts, vertical mast lift offering a range of operating platforms and product operations, with working heights from 6-48 meters. SINOBOOM products are widely used in stadiums and plants, petrochemical sites, shipbuilding, municipal works, ports, complex construction, commercial maintenance and more. The brand's ongoing success has ensured SINOBOOM has become one of the top MEWP manufacturers in China.

SINOBOOM MEWPs are found in Europe, Southeast Asia, Africa and the Americas, totaling more than 70 countries worldwide. SINOBOOM also features within the top 10 in the world for global MEWP sales.
Always For Better Access Solutions.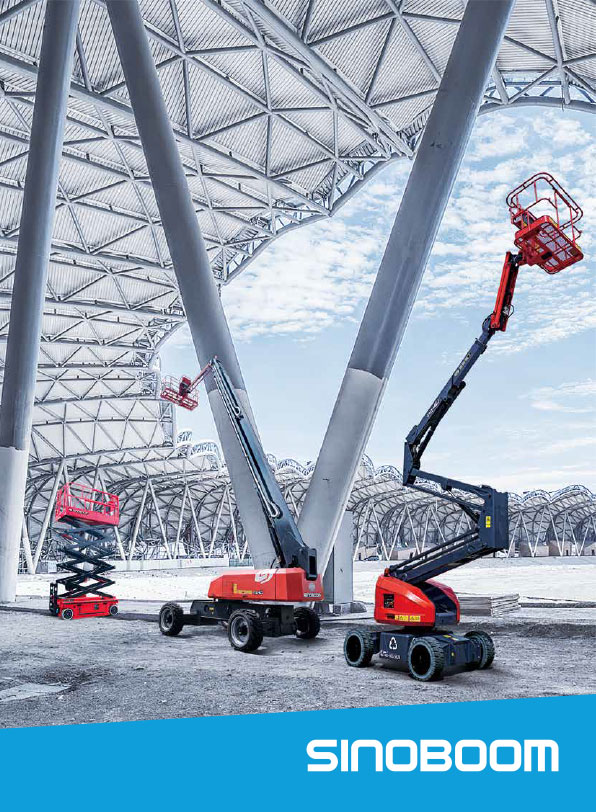 company culture
SINOBOOM's
Mission Statement

Everything we do at SINOBOOM drives us towards our goal to become one of the world's most preeminent and respected engineering, machinery and equipment providers. In the grand scheme of things, we want our products to bring a better quality of life, not only through the direct application of our machines, but by our contribution to infrastructure and engineering around the world. 

Core Values

We believe that integrity brings business, that science fosters progress, that excellence should be our constant pursuit and that the strength of these values is multiplied when shared. Furthermore, we pride ourselves on that integrity, and go forward proudly with law-abiding conduct as the foundation in developing our business.
our journey
2008

SINOBOOM was founded in February and exhibited for the first time at the China Shipbuilding Expo in July.

2010

In May all series of SINOBOOM products were CE certified.

In October first telescopic lift with 44m workingheight was manufactured.

2011

Started moving process to the new premise in Jinzhou Industrial Park.

2012

SINOBOOM products won the ADR registration in accordance with AS1418.

2013

SINOBOOM products were certified by GOST-TR3 in February and in April the company moved into the new purpose-built manufacturing base.

2014

SINOBOOM was ISO AA certified in January and launched the truck mounted AWP product line in September.

2015

Launched stationary scissor lift of military use in June. The company acquired CU-TR and KCS certificates in August and October respectively.

2016

Sinoboom's products officially enter the government agencies' procurement project in September.

The GTJZ1623D successfully completes a production trial in June.

2017

Sinoboom enters its 10th year and launches limited edition anniversary range.